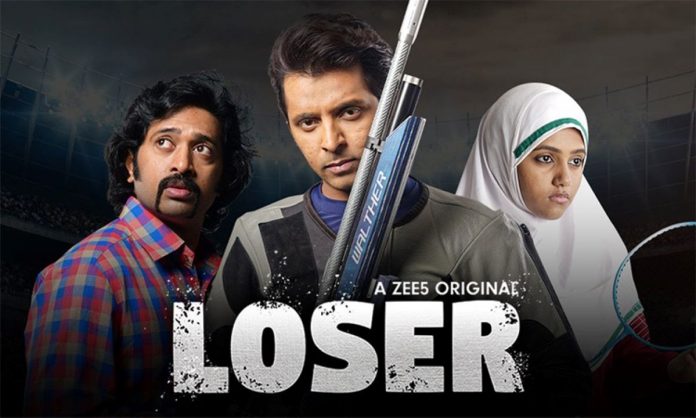 Here it is guys, the Zee5 webseries Loser Review. Let us get started
Gossiper's Rating: 3/5
Streaming Platform: Zee5
Duration: 10 Episodes, Approximately 30 Minutes each
Cast: Priyadarshi, Annie, Shashank, Kalpika Ganesh, Sayaji Shinde
Director: Abhilash Reddy
Story:
The loser is a well-written sports drama set-up in three different time periods of 1985, 1995, and 2007. The 2007 story is all about Suri Yadav an air rifle shooter played by Priyadarshi. It revolves around whether if he achieves his dream of making it into the state team. Coming to the 1995 story, it deals with Ruhi played by Annie and Kalpika. How this young girl coming from an orthodox Muslim family achieves her goal of becoming a big badminton champion is the story. And then there is the 1985 story about Wilson played by Shashank. He is a Ranji player aspiring to get into the Indian Cricket team. The struggles that these young talents face, and how they go on conquer their dreams forms the rest of the story.
Positives:
Story and Direction
Depth in emotions
Perfect casting & Terrific performances
Crispy runtime
Negatives:
Flavour of Jersey, and other sports films
Some loose ends in the story
Analysis:
This web series loser is one that pays tribute to all the unsung heroes in various sports fields. The director Abhilash Reddy proves that he has got an immense talent in writing dramas blended with sublime plot twists. The three different timelines set the mood for the audience. This narration keeps the audience engaged with the show all the way through. Even though seventh and eight episodes lack a little pace, the crisp runtime comes as a savior. The director also touches upon woman empowerment and sexual harassment problems that the upcoming female young talents face. The great emotional connection is what makes the audience watch it till the end. Even though the directed has left some loose ends and unanswered plot points, his strength in drama writing makes up for it.
Performances:
This show sees some top-notch performances from all the lead cast. With the casting done right, the director's vision is projected with 100% accuracy on the screen. Following up on Mallesham, this web series is a very good work of Priyadarshi. This young actor once again proves his worth and his exceptional acting skills. And then comes Shashank as a shocker. Playing the role of Wilson, Shashank succeeds in amazing the audience with his talent and shows that he might be the next big thing in the future. Kalpika Ganesh playing the role of elder Ruhi excels in her role. Her acting in the emotional scenes with her husband is truly worth appreciation. All the other cast also do justice to their roles, a series goes on a right path.
Bottom Line: A Worth Watch for Sports drama lovers!
And that's the Zee5 webseries Loser Review from Team Gossiper. Keep watching this space for more.
You Might Also like to Read: Chris Hemsworth starrer Extraction Review