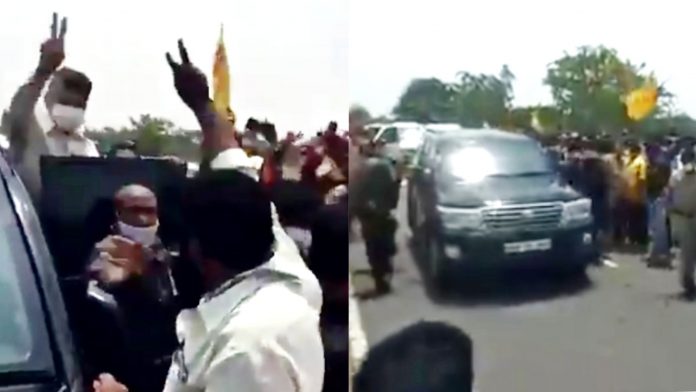 TDP Supremo, Chandrababu Naidu recieved a very grand welcome from the public on his arrival into the Andhra Pradesh state. TDP Supremo was stuck in the Hyderabad during the Lockdown. During the Vizag gas leak incident itself Chandrababu Naidu requested to permit him to visit Vizag victims. But the permission wasn't granted. Finally with the relaxation in lockdown, Chandrababu got to travel to Andhra Pradesh.
Initially, Chandrababu Naidu planned to visit Vizag directly. But, the YSRCP led Andhra Pradesh Government cancelled the flights to Vizag and Vijayawada today. Owing to which, Chandrababu had to cancel his plan to Vizag. He decided to travel by road to reach his Andhra Pradesh residence.
Today morning at 10.30 AM Chandrababu Naidu started his journey from Hyderabad to Undavalli residence. Thousands of people and TDP cadre gathered all long the way with the slogans supporting and welcoming Chandrababu Naidu. From Kodad of Telangana till his residence it was ocean of yellow flags and TDP cadre. At several places, Chandrababu Naidu had to stop his vehicle and greet the cadre. Happiness of public was evident with the Grand welcome to Chandrababu Naidu for his return to Andhra Pradesh.