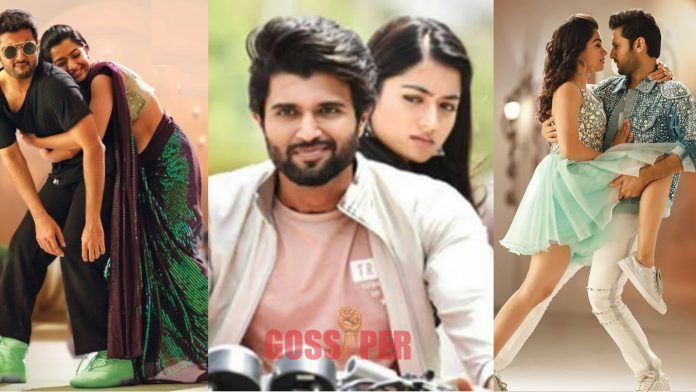 Relationship between Vijay Devarakonda and Rashmika has been a long said story, the lastest about the pair is the gossip about Vijay annoyed on Rashmika being close with other heros in her movies. In film Nagar, a gossip is doing rounds that things aren't fine between Vijay Devarakonda and Rashmika Mandanna.
The reason behind the gossip is the latest photos of Rashmika from her upcoming movie Bheeshma. Rashmika has literally went over the top in flaunting the seductive side of her. Couple of stills released from Bheeshma have went viral for the hotness level of Rashmika. In both the posters Rashmika was seen so close with her co star of Bheeshma, Nithin.
In one of the posters, Rashmika has posed with spreading her legs. While in the other poster, Rashmika is seen hugging Nithin in a inappropriate way from the behind. This photos of Rashmika is said to have irked Vijay Devarakonda.
However, this gossip isn't fare as both the stars are matured enough about the profession. If Vijay Devarakonda has to really annoy, people should remember that Rashmika was engaged with Rakshit Shetty before getting close to Vijay Devarakonda. Also, Vijay Devarakonda irrespective of the movie and heroine, he has high intimate scenes in his movies.
So this gossip about the pair will remain a gossip as both Vijay and Rashmika are matured enough to understand the profession.