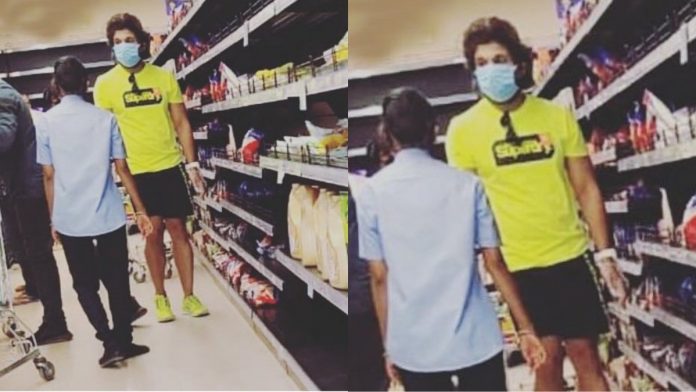 It seems like Coronavirus lockdown has given freedom to Allu Arjun, as the star is seen freely on grocery shopping at a local super market. In normal times, stars like Allu Arjun can't even imagine on going for grocery shopping in supermarkets. People would mob this stars and the situation would go out of control.
But the Coronavirus lockdown has given wings of Independence for stars like Allu Arjun. However, even the stars can't come out Unnecessarily in this lockdown. But atleast once in a while, the stars are able to come out freely without being mobbed.
Stylish star Allu Arjun was spotted in a supermarket yesterday at Jubilee Hills. The minimum crowd present over there couldn't properly notice the presence of Allu Arjun as he was with a face mask.
Still, some one has managed to get a click of Allu Arjun. This photo is now being shared over the social media. On the workfront, Allu Arjun is now working on his next movie with Sukumar. Owing to the lockdown, the team has taken a break from the shooting. This lockdown has only given good family time to our busy stars heroes. Still, Allu Arjun is in regular touch with his fans through the Twitter handle.